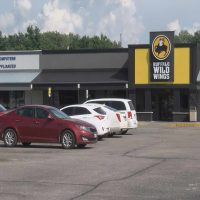 (Vincennes, In) — A Vincennes restaurant is the latest to be involved in a statewide Hepatitis A outbreak. Buffalo Wild Wings on 6th Street was recently investigated by Knox County Health Department. During the investigation, officials found that there was an individual working at the restaurant between June 30th and July 1st that had Hepatitis A. Health officials say while it is rare for anyone to get the virus from a food handler, you should look out for symptoms of the virus and if needed get vaccinated against it. Knox County Health Officials will be holding a clinic July 12th, for those needing to get vaccinated against Hepatitis A. The clinic will be held at the Knox County Health Department Immunization Clinic, 305 South 5th Street.
Those that believe they have been exposed should:
Monitor their health for symptoms of hepatitis A infection up to 50 days after exposure.
Wash their hands with soap and warm water frequently and thoroughly, especially after using the bathroom and before preparing food.
Stay at home and contact their healthcare provider immediately if symptoms of hepatitis A infection develop.
Careful hand washing, including under the fingernails, with soap and water, along with vaccination of anyone at risk of infection, will prevent the spread of this disease.
The Clinic will be held on Friday, July 12, 2019 from 7:00 A.M. until 5:00 P.M.
If you have already been vaccinated within the last 10 years you do not need to be revaccinated.
A hotline has been established at the Knox County Health Department to answer questions that individuals may have, please call 812-885-8413
Those who can't attend the vaccination clinics during the scheduled times should contact their personal medical provider or contact local pharmacies for vaccine availability.
Indiana law has required a hepatitis A vaccine for school admission since 2014, and the vaccine was required for students entering sixth and 12th grades in 2018, so many students have already been vaccinated.