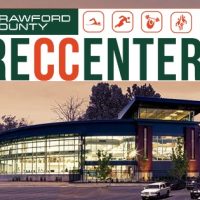 (Undated) – The County Board got an update on the Crawford County Recreation Center that is to be built on the campus of LTC, during last night's meeting. Lincoln Trail College President, Dr. Ryan Gower, told the board that the project is moving along and they are nearly at the halfway point of fundraising.
Gower says that they are optimistic that they could break ground on the thirty-five thousand square foot project in the next couple of years.
The facility would include multi-purpose rooms as well as traditional fitness equipment and it will accommodate organized sports leagues. In addition to the indoor pool, the Recreation Center would have an elevated indoor track, temporary childcare during the use of the facility and fully-equipped locker rooms. In other business, the board agreed to a pro-rated contract with DVM, Gary VanWinkle for the Animal Control Administrator. The board will reevaluate the contract next year.