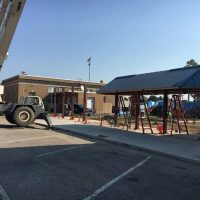 (Robinson) – Work continues to progress on the South Cross Street Station project. Park and Recreation Superintendent, Mike Shimer, says the project is coming along nicely and should be completed in time for the Heath Harvest Festival.
According to Shimer, the project has taken a few big steps in recent weeks.
Shimer says they are excited to see what can be done with the space when it is all done and he is interested in hearing ideas from the community.