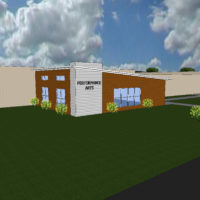 (Undated) – The first brick and mortar building project on the campus of Lincoln Trail College since 1975 has taken the next step forward. The Illinois Eastern Community Colleges Board of Trustees approved the bid for the "Theater Renaissance Project." IECC Chancellor, Dr. Ryan Gower, says that the physical scale of the project is relatively small but it means so much.
All of the money for the Theater Renaissance Project has been privately raised and the LTC Foundation is a large contributor to the project. Executive Director of the LTC Foundation, Rod Harmon, says the "Theater Renaissance Project" will help LTC grow as a "community hub."
Work on the project should begin this fall and it is expected to be completed within nine months.