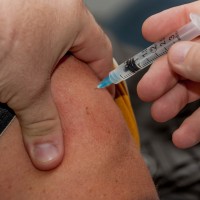 (Undated) — With the COVID-19 pandemic still in full force, this flu season could be extremely difficult to navigate. Crawford Memorial Hospital's, Dr. John Sharma, is doing his best to debunk one of the most common myths about the seasonal flu shot.
Dr. Sharma says that timing is very important when getting the seasonal flu shot.
Sharma reminds the public that another way to help fight the flu is to continue to keep doing what we have been doing since March. Wear a mask when in public, wash your hands frequently, wipe down commonly touched surfaces, avoid large crowds, and if you feel sick, stay at home, and contact your primary care doctor.