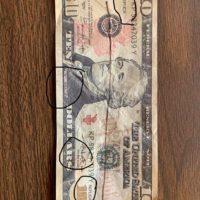 (Undated) – Palestine authorities are once again reminding the public to be on the lookout for "bogus bills." The Palestine Police Department is investigating a bogus bill passed at the Palestine Casey's. The bill in question was a $10 bill and appeared legit other than the word "replica" printed in several places. Palestine Police Chief, Jeff Besing, explains some of the things to look out for.
Besing says that it is a good idea to closely look over any money you receive.
If you come across a counterfeit note you are advised to contact your local law enforcement agency.