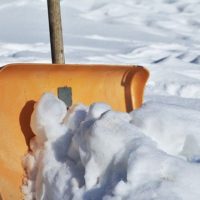 (Undated) – The current forecast is calling for as much as seven inches of snow in the area. That means many of us will spend at least some time shoveling over the next couple of days. The National Safety Council and the American Heart Association remind everyone to be safe. While most people won't have a problem, shoveling snow can put some at risk of a heart attack. Cold weather can increase heart rate and blood pressure. It can make blood clot more easily and constrict arteries, which decreases blood supply. This is true even in healthy people. Find a full list of safety tips below.
– Do not shovel after eating or while smoking
– Take it slow and stretch out before you begin
– Shovel only fresh, powdery snow; it's lighter
– Push the snow rather than lifting it
– If you do lift it, use a small shovel or only partially fill the shovel
– Lift with your legs, not your back
– Do not work to the point of exhaustion
– Know the signs of a heart attack, and stop immediately and call 911 if you're experiencing any of them; every minute counts
– Don't pick up that shovel without a doctor's permission if you have a history of heart disease. A clear driveway is not worth your life.